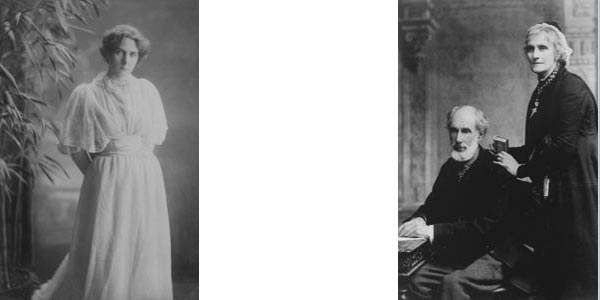 Chapter 6: 'No-one to talk to' – Constance
Summary
This chapter opens with an account of Constance Wilde's friendship with Georgina Mount Temple, followed by a description of how Constance spent her time in Worthing – which can be summarised as too much reading and brooding, and not enough conversation.
There is then a full and thorough account of the relationship between Constance and Arthur Humphreys. A fresh and extended analysis of Constance's letters enables errors made elsewhere to be corrected, and the relationship itself is examined in quasi-forensic detail, leading to the inescapable conclusion that there was almost certainly never any physical relationship between the two of them.
The new research also establishes the crucial fact that the letter in which Constance most comprehensively reveals her feelings for Arthur was written while Arthur was actually still at the Haven, towards the end of the day that he spent with the Wildes in Worthing.
There is also much new material about Revd Leslie Lilley, the other man to whom Constance was emotionally attached during the period of the Worthing holiday.
The chapter ends with an account of Constance's activities after she and her sons left Worthing on 12 September, including a much-needed stay of a week with Georgina Mount Temple at Babbacombe at the end of the month.
Extract
As we have seen, Oscar Wilde's holiday in Worthing was, as far as Wilde himself was concerned, both productive and enjoyable. He wrote the play that came to be regarded as his masterpiece; he was not deprived of the company of the handsome but difficult young man who was the love of his life; and there were the pleasures of regular boat outings with Alphonse, Stephen and Percy, and of sexual intimacy with Alphonse.
But, although Wilde paid proper attention to his children, he was not attentive to his wife, who felt lonely and neglected. The previous two years had been the worst period of Constance's marriage, with Bosie usurping the place in Oscar's affections that had once been hers. Health problems, unhappiness, and the strain of Oscar's relationship with Bosie had taken their toll. Nonetheless, Constance was still a very beautiful woman at this time, as is shown by photographs reproduced here.
On the back of one of the photographs is an ornate 'credit sheet' for the photographer. The firm's name appears as 'Mr H. S. Mendelssohns Studios' (in stylised print, with no apostrophe), and the address as 14 Pembridge Crescent, Notting Hill Gate, W. There is a display of medals and awards and the description 'High Art Photographer to the Queen and Royal Family'.
These photographs can be dated exactly, for on 30 July 1894 Constance wrote to Georgina Mount Temple: 'This morning I am going to Mendelssohn to be photographed.' The planned visit to the studio clearly did take place, for on 3 September there is another reference to it in a letter to Lady Mount Temple: 'I have just been photographed by Mendelssohn and as Oscar likes the photos, I suppose that they are good.'[1]
Oscar Wilde was of course a prolific letter-writer, [2] but he was not the only member of his family writing regular letters during August and September 1894. Constance Wilde too was a keen correspondent, and eleven of her letters from Worthing survive.[3] One is to her brother Otho;[4] one to Arthur Humphreys,[5] who was shortly to publish Oscariana , a collection of Wilde's epigrams;[6] and nine to Georgina Mount Temple.[7] A few letters to Lady Mount Temple either side of Constance's stay in Worthing also provide relevant information about this period.[8]
The letters to Georgina Mount Temple[9] are of much interest, not least because of their relaxed and intimate tone. By this time Constance and Georgina had been close friends for about five years – indeed from soon after the death of the latter's husband in 1888. Constance, whose own mother had been guilty of much emotional cruelty to her, particularly during her teenage years, had adopted Georgina as a kind of surrogate mother, and most of her letters from Worthing begin 'My Darling Mother' and end 'Your devoted Bambina [little girl]'. On one level this is affectionate and charming; on another, perhaps slightly troubling.
Georgina Mount Temple (1822-1901) was the youngest and apparently the most beautiful of the nine daughters of Vice-Admiral John Tollemache. In 1848 she married the recently widowed William Cowper-Temple (1811-1888), the step-son – and probably the illegitimate 'full son'[10] – of Lord Palmerston, the Victorian statesman. Cowper-Temple was himself a politician of substance, who held a number of senior government posts and was created Lord Mount Temple in 1880. The Mount Temples, who had no children of their own – they had an adopted daughter, Juliet – owned the Broadlands estate, near Romsey, which after Lord Mount Temple's death passed, by way of distant relations and then marriage, into the Mountbatten family. Babbacombe Cliff, the Mount Temples' lavishly and exquisitely decorated house near Torquay in Devon,[11] was in effect their holiday home – indeed the Wildes rented it during the winter of 1892/3 – but by 1894 Georgina was living there more or less permanently, making little use of her London house at 9 Cheyne Walk. The Mount Temples were close friends of John Ruskin,[12] and Lady Mount Temple was much interested in religious, ethical and psychological questions – including what would now be described as New Age spiritual beliefs – and had a passionate hatred of cruelty and injustice. She was a vegetarian[13] and in 1882 became one of the vice-presidents of the Vegetarian Society; and both she and her husband were actively involved with the Victoria Street Society, the forerunner of today's National Anti-Vivisection Society. After her death, friends and local people subscribed to the erection of a bronze statue of her on the northern end of Babbacombe Downs. She is depicted feeding an injured bird.[14]
Although Constance's letters from Worthing to Lady Mount Temple and others add little to our knowledge of how Oscar was spending his time, they provide much interesting information, as well as offering an insight into Constance's state of mind at the time of the 1894 holiday. As already indicated, the Wildes' marriage – which had gone through a brief benign patch at the start of the year while Bosie was away in Egypt – was again in a poor state; and there is little sense of joie de vivre in any of Constance's letters. Constance was, however, growing close to two other men, both of whom visited her in Worthing.
One of these men was Arthur Lee Humphreys, with whom Constance fell briefly in love.
Constance was thirty-five at the time of the Worthing holiday, and Arthur Humphreys, who was born in 1865, was five or six years younger. Humphreys must have been of relatively humble origin, since he had started in Hatchard's bookshop in 1881 as a junior assistant at £1 a week [less than £100 today]. Ten years later he was a partner in the firm, from which he retired in 1924. He was a man about whom no-one seems to have had anything but good to say, and at about the time of his death in 1946 he was referred to as 'Mr Arthur Humphreys, most admired – I may say, most adored – of booksellers'.[15]
On Saturday 11 August Humphreys spent a day with the Wildes in Worthing, presumably primarily to discuss the publication of Oscariana . The original arrangement, referred to in Constance's 7 August letter to Georgina Mount Temple, had been that Humphreys should stay overnight. We do not know why the plan changed, but perhaps one of Oscar, Constance or Arthur decided that the inherent awkwardness of the situation – as we shall see, Oscar seems to have been aware of his wife's emotional attachment to Humphreys – was better confined to a daytime visit.[16]
Constance wrote two letters that Saturday. One was to Georgina, to whom she gave this brief account of Arthur's visit:
We have had Mr Humphreys down here for the day, so we have walked about and enjoyed the air and the sea, and now this evening has turned very stormy and wet.
That is all we know about what Humphreys did in Worthing on 11 August, beyond that, as we shall see in moment, he smoked a cigarette.
The second letter was to Humphreys himself. Since this letter is the most important clue to the nature of the relationship between Constance and the only man she was ever in love with other than her husband, its complete text needs to be examined closely – as does the context in which it was written, which until now has been overlooked. These are not trivial matters, because the letter has elsewhere been used as the basis for the – almost certainly erroneous – deduction that there was a love affair between Constance and Arthur.[17]
Notes
1. When she wrote the 3 September letter, Constance probably did not remember having briefly mentioned her trip to the photographer to Lady Mount Temple five weeks earlier, so the word 'just' probably simply implies 'recently', and is unlikely to indicate a further or alternative visit to Mendelssohn's studio in late August during a trip up to London from Worthing.
2. Merlin Holland and Rupert Hart-Davis, eds, The Complete Letters of Oscar Wilde (Fourth Estate, 2000) contains twenty-six letters from Wilde in Worthing; and there were undoubtedly many others that have not survived. One of the more important ( Complete Letters , p. 617) was a letter published in the Pall Mall Gazette on 2 October 1894 in which Wilde asked to be allowed 'to contradict, in the most emphatic matter, the suggestion, made in your issue of Thursday last, and since then copied into many other newspapers, that I am the author of The Green Carnation . I invented that magnificent flower … The flower is a work of art. The book is not.' The book in question was a thinly disguised fictional account of the relationship between Wilde and Bosie by their friend Robert Hichens. In his response in the following day's edition of the Pall Mall Gazette , the anonymous reviewer attributed the fact that other newspapers had taken his suggestion about its authorship seriously to 'stupidity', and the fact that Wilde had done the same to 'the disastrous effect of the bracing air of Worthing'. I am grateful to Donald Mead for alerting me to the reviewer's response and sending me a scan of it.
3. The letters written by Constance Wilde to Lady Mount Temple are in the Broadlands Archive at the University of Southampton. This part of the archive was deposited in the University Library in 1987 and has been open for research since then, although the formal purchase and acquisition was not concluded until early 2012 (information from Professor Woolgar of Southampton University, 23 April 2012). The letters from Constance Wilde seem not to have attracted significant attention until Philip Hoare used a few of them in England's Lost Eden (2005). The first full account of the correspondence between Constance and Lady Mount Temple was James Gregory's long article 'Lady Mount Temple and Her Friendship with Constance Wilde', published in the November / December 2006 issue of the online publication The Oscholars (Vol. III, No. 12, Issue No. 31), and some of the material from the article was included in Gregory's book, Reformers, Patrons and Philanthropists: The Cowper-Temples and High Politics in Victorian England (2010). I learnt of the existence of the letters – and the important fact that there were a number from the Worthing period – when I read Franny Moyle, Constance: The Tragic and Scandalous Life of Mrs Oscar Wilde (John Murray, 2011.
4. 31 August 1894. I am grateful to Merlin Holland for sending me a scan of this letter, which is in his private collection, and for giving me permission to quote from it.
5. 11 August 1894, British Library, Eccles Collection, 81732.
6. The contract for Oscariana was signed on 14 August by Wilde and Humphreys, and witnessed by Bosie. The book was privately printed in January 1895, but not published until 1910: see Richard Ellmann, Oscar Wilde (Hamish Hamilton, 1987), p. 401. Fifty copies were produced in January 1895, and in May a further two hundred ( Complete Letters , p. 604, footnote).
7. I am grateful to the Broadlands Archive for providing me with photocopies of the letters from Constance Wilde to Lady Mount Temple in 1894, and to Merlin Holland for allowing me to quote from them. Since all quotations from or references to these letters in this book give the date of the letter in question, the bibliographical information needs to be given only once. The archival reference numbers for the letters from Worthing are as follows: 7 August, BR 57/20/10; 11 August, BR 57/20/11; 17 August, BR 57/20/12; 20 August, BR 57/20/13; 25 August, BR 57/20/14; 2 September, BR 57/20/15; 3 September, BR 57/20/16; 4 September, BR 57/20/17; and 11 September (incomplete), BR 57/21/1. All the letters use the Wildes' 16 Tite Street writing-paper, but Constance methodically crosses out the printed address and replaces it with the Worthing address. An exception is the 17 August letter, which retains its Tite Street heading, and since Constance indicates in it that she had gone up to London the previous day, she may still have been at 16 Tite Street when she wrote it.
8. The letters to Lady Mount Temple from 16 Tite Street that were consulted for the purposes of this chapter are: 4 August, BR 57/20/9; 15 September, BR 57/21/2; 22 September, BR 57/21/3; 2 October, BR 57/21/4; 3 October, BR 57/21/5; 6 October, BR 57/21/6; and 7 October, BR 57/21/7.
9. Although the 'Mount-Temple' variant often appears (including in the nineteenth century, as in the passage quoted in note 13), the Mount Temple name should correctly be written without a hyphen. Lord Mount Temple's full title was 'Baron Mount Temple of Mount Temple in the County of Sligo', and Mount Temple is therefore not a 'double-barrelled' name like the family name, Cowper-Temple. The Broadlands Archive catalogue uses 'Mount Temple' (though does not hyphenate 'Cowper Temple') and the Rossetti Archive uses 'Mount Temple' and 'Cowper-Temple', as does James Gregory in Reformers, Patrons and Philanthropists . Lord Mount Temple's title was a revival of the junior title held by the Viscounts Palmerston, which had become extinct along with the viscountcy on Palmerston's death in 1865.
10. An e-mail query of James Gregory, author of Reformers, Patrons and Philanthropists , produced this response (24 April 2012): 'It's usually said in the secondary literature that he was the natural son of Lord Palmerston, and the striking similarity between the two was detected by contemporaries. Though it was not something I found any allusion to in William Cowper-Temple's papers, my view was that he probably was.'
11. There are descriptions of Babbacombe Cliff on pp. 44-5 of Vyvyan Holland, Son of Oscar Wilde (E. P. Dutton, 1954) and p. 186 of Moyle, Constance.
12. The book of Ruskin's letters to the Mount Temples runs to over 400 pages: The Letters of John Ruskin to Lord and Lady Mount-Temple , ed. John Lewis Bradley (1964).
13. The report in The British Medical Journal (19 May 1888) of a vegetarian supper held at the Walmer Castle Coffee Tavern, Seymour Place 'for 100 employés of the Vestry of St Marylebone' includes this: 'Apologies [for absence] were read from Lords Waldegrave, Claud Hamilton, and Mount-Temple (who stated that Lady Mount-Temple had been a vegetarian for many years).'
14. The sources for the information in this paragraph are too numerous to list, but all facts have been cross-checked.
15. The Nineteenth Century and After , vol. 139, 1 January 1946, p. 228.
16. Franny Moyle states that Arthur Humphreys stayed the night ( Constance , p. 244), but it is clear that he did not. Although on 7 August Constance had written to Lady Mount Temple that 'on Saturday Mr Humphreys comes until Sunday evening', on 11 August, the evening of the visit, she wrote that they had 'had Mr Humphreys down for the day'.
17. Moyle, Constance , pp. 242 & 243: 'Constance is feeling towards an affair' and 'These signals were clearly responded to and acted on'. Moyle relies for her first statement on this passage from the letter that Constance wrote to Humphreys on 1 June 1894: 'But if we are to be friends, as I hope we may be, you must trust me. Indeed I can be trusted, as I believe that you can be. I am the most truthful person in the world, also I am intuitive.' Moyle's second statement derives from her interpretation of the 11 August letter – but, although she quotes this letter almost in its entirety, she omits the crucial sentence about Arthur's love making Constance 'good'. Ellmann ( Oscar Wilde , p. 401) writes that Constance 'may have had a brief affair with Humphreys', while pointing out that 'she was away for much of the time in late summer and autumn'.