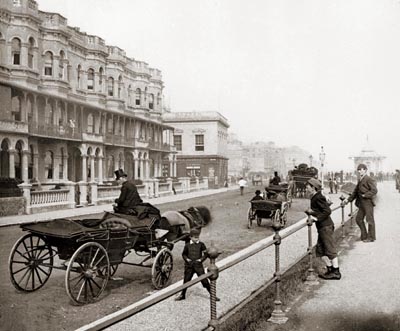 Chapter 5: 'A happy, good-humoured companion' – Alphonse
Summary
This chapter presents the most detailed account ever written about Wilde's relationship with a boy or young man (other, of course, than Bosie)
Wilde's relationship with Alphonse Conway was unlike like any other of his relationships, and indeed Alphonse was a very different sort of boy from any of the other boys Wilde was involved with during the years before his fall – although he was to some extent the prototype for the Italian fisher-boys he was involved with during his exile.
Alphonse was not tainted by the whiff of metropolitan corruption that clung to most of the others youth and young men with whom Wilde associated during the first half of the 1890s. He was a simple, outdoors boy, who loved the sea and whose ambition was to join the merchant navy.
Wilde, Alphonse, and a younger boy called Stephen – and sometimes Bosie and a third boy, Percy – used to go out regularly on a sailing-boat. These outings had an almost Swallows and Amazons character to them, not least the 'dangerous adventure' when Wilde, Alphonse and Stephen were caught in a severe storm on the way back from Littlehampton.
The extract below comes from early in Chapter 5. The original numbering is retained for the notes, which start at note 8.
Extract
The facts about Wilde's association with Alphonse Conway come to us primarily from the answers Wilde gave during the libel trial held on 3-5 April 1895, the complete transcript of which came to light only in 2000.[8] (The full text of the sections relating to Alphonse Conway appear in the Appendices section of this website.) There is other evidence about the friendship in the 'storm letter' to Bosie, written on 10 September 1894, and in the statement Alphonse made to Queensberry's solicitors in March 1895.[9]
We do not know what Alphonse looked like. Although in the 'storm letter' Wilde described Percy, Bosie's favourite, as 'Hellenic', he had no reason to comment on Alphonse's looks in his letters to Bosie – and, for obvious reasons, this was a subject to be avoided in court, as Wilde's terrible lapse in respect of Walter Grainger demonstrated – so we do not know whether or not Alphonse was Hellenic also. However since, as we shall see, Wilde kissed him on the road to Lancing one evening in late August, Alphonse cannot have been unkissably ugly, like poor Walter.
In court Wilde initially said that Alphonse had been his companion for six weeks. He then quickly retreated to 'a month' – but the original reply was correct.
As we have seen, Bosie paid three visits to Worthing during Oscar's time there, and he and Oscar used regularly to go out on the sea in a sailing-boat. It was one afternoon about 20 August that they met Alphonse.[10] A boat they had hired was being dragged by the boatmen towards the water from high up the beach. Two boys, Alphonse and 'a younger boy in flannels' joined in to help – doubtless they used to earn a few tips in this way during the holiday season. The boy in flannels was called Stephen.[11]
When the boat was down by the sea, Oscar suggested to Bosie that they ask the boys to join them on their outing. The boys enjoyed themselves so much that the trip was repeated the next day, and afterwards Oscar took Bosie, Alphonse and Stephen to lunch at the Marine Hotel, situated opposite the pier. After that, Alphonse, Stephen and a third boy, Percy, came out sailing every day; and Oscar and Alphonse became, in Wilde's own phrase, 'great friends'. The party would bathe from the boat in the morning and fish in the afternoon.
Constance Wilde seems to have been acquainted with Alphonse. According to Wilde, she met him regularly and knew him 'quite well'. These meetings were sometimes on the beach when Wilde and his friends returned from sailing trips, but Alphonse apparently also went to 'a children's tea' at the Haven. Wilde claimed that Alphonse was a great friend of 'his son's'. Oscar referred several times to his 'son' or his 'son's friends', and this son would have been Cyril, who was not only the elder but also the more outgoing and robust of the two. Probably Vyvyan, still not yet eight and, as we saw in Chapter 1, less confident than Cyril, spent more of his holiday time with his mother.
There is little in Constance's letters from Worthing about her husband's holiday activities, and part of the reason for this was that she did not know much about them. Indeed Wilde may during the libel trial have exaggerated the extent to which Alphonse was integrated into the family holiday. Although we are reliant on Wilde's answers in court for much of our information about the Worthing holiday, a certain amount of scepticism is appropriate. It was, for example, clearly in Wilde's interests to paint Alphonse as just as much Cyril's friend as his own, and as someone Constance knew reasonably well.
Equally, if Alphonse did indeed, as Wilde claimed, attend a 'children's tea' at the Haven 'while my wife was there', it must have been an odd occasion. Who else was present? Was it just Alphonse, Cyril and Vyvyan who were being fed, with the Wildes' young servant Arthur handing round the muffins and the fruit cake, and Constance on hand in case one of the boys got butter on his cuffs? Or was it a more extensive affair, with a guest list that included, on the one hand, the children of a few other upper-middle-class holidaymakers and, on the other, Alphonse and his somewhat rough-and-ready teenage friends, Stephen and Percy?
Carson more than once asked Wilde whether he knew that Alphonse sold newspapers on the pier at Worthing, but Wilde said he did not. When Clarke, Wilde's counsel, returned to the subject the next day, asking Wilde if he had ever heard of Alphonse's being employed as a newspaper boy, Oscar had his quip ready: 'I never heard of it, nor had any idea that he had any connection with literature in any form.' While many of Wilde's responses under cross-examination were untrue or evasive, he seems genuinely not to have known about this occupation. He said that Alphonse had told him he had never had a job. Thus either Alphonse had kept this information to himself because he was embarrassed by it or – more likely – he acquired the newspaper-selling job only after Wilde left Worthing.
Carson then asked Wilde what Alphonse did, and Wilde replied that he enjoyed himself being idle. Carson used the disobliging term 'loafer' to describe the boy, but Wilde said he preferred to say that he had 'a happy, idle nature'. But Alphonse was not without aspiration – Wilde said that he was keen to go to sea as an apprentice in the Merchant Navy, although his mother (whom Oscar never met) had mixed feelings about this.
According to Alphonse's witness statement, it was just a few days after their first meeting that Oscar asked Alphonse to join him on the parade at about nine o'clock one evening. They walked out of the town towards Lancing, along what at that time was a quiet road between fields and the sea. Oscar kissed Alphonse, put his hand inside the boy's trousers, and masturbated him until he 'spent'. However he did not ask Alphonse to 'do anything'. The event was repeated a night or two later. Alphonse also says in his statement that he had dinner at the Haven on two or three occasions and that after the meal Oscar would take him to his bedroom, where they would undress and get into bed.[12] This, of course, was in the second half of September, after Constance and the children returned to London.
In the 'storm letter' of 10 September, Wilde brings Bosie, back in London at that point, up to date with the boys' doings. Percy, whose sea-side holiday had presumably ended, had left Worthing. Alphonse was 'still in favour' and remained his 'only companion, along with Stephen'. Oscar reported that Alphonse always referred to Bosie as 'the Lord' – he would observe, for example, that 'Percy was the Lord's favourite'.
In this letter Oscar describes a boat-trip that had taken place the previous day, a Sunday. He, Alphonse and Stephen sailed the seven or so miles to Littlehampton in the morning, bathing on the way, but then got caught in a severe gale, and it took them five hours to get back, reaching Worthing pier only at eleven o'clock at night. Wilde calls this as 'a dangerous adventure' and says that all the fishermen were waiting for them at the pier. After they returned, they went to 'the hotel' – this was probably again the Marine – where the proprietor had to give rather than sell them brandy because it was past ten o'clock on a Sunday night. Wilde reported that the absurdity of English licensing laws had, no doubt with encouragement from himself, turned Alphonse and Stephen into anarchists.
Notes
8. The complete Queensberry trial transcript is printed in Merlin Holland, Irish Peacock & Scarlet Marquess: The Real Trial of Oscar Wilde (Fourth Estate, 2003). A painstakingly compiled but incomplete and unreliable version of the libel trial (and the two criminal trials) appeared ninety years earlier in Anon [Christopher Millard], Oscar Wilde: Three Times Tried (Ferrestone Press, 1912). This was the basis for the version in Hyde, Trials of Oscar Wilde.
9. Alphonse Conway's witness statement is quoted from in Neil McKenna, The Secret Life of Oscar Wilde (Century, 2003), pp. 298-9.
10. McKenna, The Secret Life of Oscar Wilde, p. 297. McKenna and Holland have had access to the witness statements, but they are not available for general inspection. In the statement the word 'about' is used to qualify the date (private information from Neil McKenna).
11. Under cross-questioning by Edward Carson during the Queensberry trial, Wilde referred to the second boy who helped with the boats on the first day only as 'a younger boy in flannels'. McKenna refers to Stephen as the boy who was with Alphonse on the first day and at the Marine Hotel on the second (The Secret Life of Oscar Wilde, pp. 297-8), so presumably Alphonse's witness statement makes clear that Stephen and not Percy was the younger boy in flannels.
12. Information from Conway's witness statement, McKenna, The Secret Life of Oscar Wilde, p. 298.