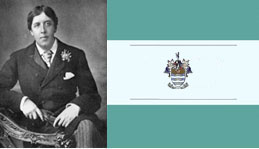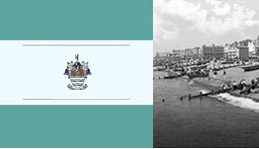 The Ballad of Worthing Beach
This experiment in verse biography in limerick metre, first published in The Wildean in July 2012, is partly biographical narrative (hence the notes at the end); partly flight of fancy; and partly melancholy commentary on the Oscar Wilde story.
The metre was chosen with recitation in mind, and the poem is therefore best read slightly aloud, with a brief pause between each verse.
I
The story this ballad will tell
Began quite remarkably well
– But the early part lacked
The Faustian pact
And the sudden descent into hell.
When writers sit back on their laurels,
They forget that the world thrives on quarrels
And that nothing provokes
Respectable folks
More greatly than sub-standard morals.[1]
Oscar Wilde, the star of his age,
Saw the world as his personal stage.
He endeavoured to fashion
Fine poems from passion
– And he lived what he wrote on the page.
It's a fair proposition to say
Doubts started with Dorian Gray
– A Wilde can of worms
With (to use modern terms)
A sub-text quite palpably gay.
The verdict of history shows
That the themes were much more than a pose
– But even in theory
They caused bitter fury
And were seen as pure poison in prose.[2]
As Greek love grew ever more rife,
The Establishment sharpened its knife.
Though not wholly deserved,
Foul cells were reserved
-For those who mixed art up with life.
So the blithe primrose path Wilde was treading
Was a cut-off relentlessly heading
To the less flowery trail
Via Pentonville jail
To wretched confinement in Reading.[3]
II
If he fancied a scullion or waiter
While dining with Ruskin or Pater,
Wilde stopped taking part
In discussion of art
And focused on what might come later.
Thus (fluid on matters of class)
When he glimpsed an ephebe through a glass
Of absinthe or hock,
To no-one's great shock
He invariably made a deft pass.[4]
Few things can more totally change us
Than perilous comfort from strangers
So sensible shepherds
Shun tigers and leopards,
Knowing feasting with panthers holds dangers.[5]
If love is a sweet-scented posy,
Wilde gave that rich garland to Bosie,
And he never once thought
It would end up in court,
For the sky at first dawn had been rosy.
The regrettable fact is that Wilde
Was intensely, insanely beguiled.
The young lord was lazy[6]
And, bluntly, half-crazy
– But he charmed the weak-willed when he smiled.
III
These are factors we cannot ignore
As we come to the year '94,
When a great play was written
On the south coast of Britain
In a tall terraced house near the shore.[7]
(The play that was Earnest became
The object of world-wide acclaim
– A near-perfect fit
Between stagecraft and wit,
And the rock of Wilde's literary fame.)
Though many think Worthing is worth
More than half of the treasure on earth,[8]
A petulant lord
Can quickly get bored
– Accidie being present from birth.
So Oscar, spurred on by his lordling,
Set off for the sands without dawdling
– They'd thought it their duty
To admire male beauty
Ever since they were members of Magdalen.[9]
As they stroll on the beach or the dunes,[10]
It is popular songs Bosie croons,[11]
But cultured old Oscar
Hums Carmen or Tosca,[12]
Not cacophonous music-hall tunes.
Of what did they talk as they trod
Near the kingdom of haddock and cod?[13]
The importance they placed
On aesthetics and taste?
Or the doubtful existence of God?[14]
But the chat was not purely didactic,
For the lovers compared sexual tactics[15]
And the merits of each
Of the boys on the beach
– By whom they were greatly distracted.
IV
There now enter this tale – lawks-a-mercy! [16]
Alphonse Conway and Stephen and Percy[17]
– Though nothing occurred
With the second and third
(Odysseus had only one Circe).[18]
But Wilde is hoping to spend
Special time with a new special friend.
Since the boy that he wants
Is the pliant Alphonse,
There is only one way it can end.
When in lust, Oscar rarely delayed
And they met up along the Parade.
Was it quite life-enhancing
On the quiet road to Lancing?[19]
Or did Alphonse regret that he stayed?
In truth it is probably best
That these matters aren't closely addressed
– So we draw a grey veil
Over part of this tale,
And the dark Sussex night hides the rest.
Moral lessons are outside the reach
Of this ballad of old Worthing beach.
Though Wilde's sexual flaws
Flouted ethics and laws,
At this point it is pointless to preach.
All summers have Shakespeare's short lease[20]
And both sunshine and passion soon cease.
Things that fade fast
Become shapes in the past
– We must leave the long-dead to their peace.
So Oscar and Alphonse soon parted,
But the waters ahead were uncharted
– Dice started to roll
Quite out of control[21]
And a tragic momentum had started.
The lines of men's lives aren't drawn straight;
Random angles and turnings await.
Short hours of affection
Take unwelcome directions
When they play second fiddle to fate.
Lord Queensberry – that infamous brute[22]
Whom Oscar had threatened to shoot
If he came to his premises –
Was now Wilde's nemesis
(Dwarf trees may bear poisonous fruit).[23]
And Worthing erupted with scandal,
Too much for poor Alphonse to handle.
The rest of his history
Is shrouded in mystery,
All trace of him snuffed like a candle.[24]
A literary footnote at most,
He left no more mark than a ghost.
He'd been flattered and kissed,
But now vanished like mist
In the dawn on the cold Sussex coast.
Oscar Wilde atoned for his crimes
And retreated to warm foreign climes.
Though his spirit was scarred,
Old habits died hard
– He bought love à la Grecque many times.
What a man loves he finally slays
With the kiss for which treachery pays.
Though Irish by birth,
Wilde lies in French earth
In a tomb in sad Père Lachaise.
La vie, à l'opinion des sages,
N'est plus qu'un très bref orage
– Donc peut-être son esprit
Entend toujours les cris
Des beaux garçons qui jouent sur la plage.
Notes
Most of these notes are straightforward references or amplifications. A few, however, consist of commentary on the poem as though written by a second party.
1. 'A giant among pygmies, Mr Wilde has naturally been cordially hated by all the mean and little people, and they now think to increase their own size and importance by belittling his.' London Figaro, 11 April 1895
2. When The Picture of Dorian Gray was first published (in the July 1890 issue of Lippincott's Monthly Magazine), most of the reviews were virulently hostile. The Daily Chronicle described it as 'a poisonous book, the atmosphere of which is heavy with the mephitic odours of moral and spiritual putrefaction'.
3. Oscar Wilde spent four weeks on remand in Holloway between his arrest and the end of the first criminal trial. After sentence, he spent a month in Pentonville, four and a half months in Wandsworth, and eighteen months in Reading.
4. This is questionable. Most of Wilde's literary friends, certainly including Ruskin and Pater, would have been shocked if they had seen Wilde proposition a restaurant employee. Any pass Oscar made would therefore indeed have needed to be exceptionally deft.
5. 'It was like feasting with panthers. The danger was half the excitement.' (Complete Letters, p 758)
6. You had been idle at your school, worse than idle at your university.' (Complete Letters, p 685)
7. The Importance of Being Earnest was largely composed at The Haven, 5, The Esplanade, Worthing, where Wilde stayed between 10 August and 4 October 1894.
8. The unusually high estimation in which the author holds the town of Worthing is not universally shared.
9. By his own admission, Bosie engaged in homosexual activity as a schoolboy at Winchester, and there is evidence that Wilde was aware of that side of his own nature during his schooldays. In both cases, however, it was during their time at Oxford that their sense of duty with regard to male beauty hardened into a philosophical position.
10. There are no dunes at Worthing, but perhaps the two poets were enjoying their singing and their conversation so much that they walked along the coast as far as the beach at Goring, where there are dune-like features.
11. Bosie's taste for popular music is twice documented in 'De Profundis': 'I accepted your passion for going to music-halls' (Complete Letters, p 692); 'There was no harm in your seriously considering that the most perfect way of passing an evening was to have a champagne dinner at the Savoy, a box at a music-hall to follow, and a champagne supper at Willis's as a bonne-bouche for the end' (Complete Letters, p 771).
12. The author is in error here, since Puccini's Tosca had its first performance in January 1900, over five years after Wilde was in Worthing. He may be confusing Tosca with the same composer's 1893 opera Manon Lescaut.
13. In referring to the sea as 'the kingdom of haddock and cod', the author seems to be consciously imitating the high-flown language of much late-nineteenth-century verse (not excluding that of Wilde and Douglas).
14. Bosie wrote in a letter to More Adey soon after Wilde's death: '[Wilde] was as a matter of fact the most complete sceptic imaginable, and would never have bowed his intellect to any dogma or any form of religious belief however fine.'
15. By then Wilde and Douglas were lovers only of others, their relationship seemingly having had a sexual dimension for just a few months in 1892. However Wilde wrote in 'De Profundis' that Bosie's conversation constantly revolved round sex. ('Fascinating, terribly fascinating though the one topic round which your talk invariably centred was …', Complete Letters, p 692.)
16. 'Lawks-a-mercy' is a variant of 'Lord have mercy', occurring – for example – in James Joyce's Ulysses, Episode 14: 'Lawksamercy, doctor, cried the young blood in the primrose vest, feigning a womanish simper and with immodest squirmings of his body.'
17. Alphonse Conway and his friends Stephen and Percy (whose surnames are not known) were the three boys Wilde and Bosie regularly took out on boating expeditions during the summer of 1894. Alphonse noticed that Percy was 'the Lord's favourite', a remark Wilde quoted in one of the letters he wrote Bosie from Worthing (Complete Letters, p 602).
18. Circe, described in Homer's Odyssey. as 'the loveliest of all immortals', initially turned Odysseus and his men into pigs when they turned up on the island of Aeaea where she lived. This change was later reversed, and she and Odysseus then lived on terms of intimacy for a year.
19. According to Alphonse Conway's statement to the Marquess of Queensberry's solicitors, Wilde asked Alphonse to meet him on the Parade one evening in late August 1894, walked with him along the road in the direction of Lancing, and suddenly kissed him. Seduction followed.
20. Shakespeare, Sonnet 18, line 4: 'And summer's lease hath all too short a date.'
21. 'In your [that is, Bosie's and Queensberry's] hideous game of hate together, you had both thrown dice for my soul, and you happened to have lost' (Wilde to Bosie, Complete Letters, p 709).
22. During the Queensberry libel trial Wilde claimed that when the Marquess of Queensberry paid a visit to his house on 30 June 1894 he had said to him, 'I don't know what the Queensberry rules are, but the Oscar Wilde rule is to shoot at sight'; and that he had told his servant that Queensberry was 'the most infamous brute in London'. Queensberry, however, said that Wilde had shown him the white feather (Ellmann, Oscar Wilde, p 396).
23. Queensberry was five feet eight inches tall, and thus seven inches shorter than Wilde. Although Bosie's notorious telegram to Queensberry on 2 April 1894 read 'What a funny little man you are', Bosie himself was only an inch taller than his father.
24. By the time of the criminal trials Alphonse and his mother had left Worthing and were briefly living in Shoreham. After that, both disappear from the historical record.
25. 'Life, in the opinion of wise people, is no more than a very brief storm – so perhaps his spirit still hears the shouts of good-looking boys playing on the beach.'